With 2015 being so profitable for Ancestry.com - what else is going to happen in the field of Genealogy? Findmypast.com is releasing over 100 million Irish Records in 2016.
GenealogyInTime Magazine
maintains the most complete list available on the internet of the newest genealogy record sets from around the world. We tell you what you need to know.
February 2016
US
– FamilySearch.org in concert with the Afro-American Historical and Genealogical Society (AAHGS) and the Smithsonian National Museum of African American History and Culture have announced the project to transcribe the Freedmen's Bureau records has reached the important milestone of one million transcribed records. Nearly 16,000 volunteers have contributed to this effort. The target is to get the entire collection online by the middle of June 2016.
This is a major announcement for anyone with African American ancestors. It will allow people to extend their family histories to dates before the 1870 national census.
We have talked extensively about Freedman's Bureau records before. For those who are not familiar with this incredibly important genealogical resource, please see the video below. [
Discover Freedmen
] [
Afro-American Historical and Genealogical Society
]
US
– FamilySearch.org has created new collections of Idaho birth indexes (1861 to 1911) and death indexes (1938 to 1961). In total, there are some 60,000 new birth indexes and some 118,000 death indexes. These records come from the Idaho Bureau of Vital Records and Health Statistics. A typical birth index lists the name of the person, date and place of birth, father's name, father's birthplace, father's age, mother's name, mother's birthplace and mother's age.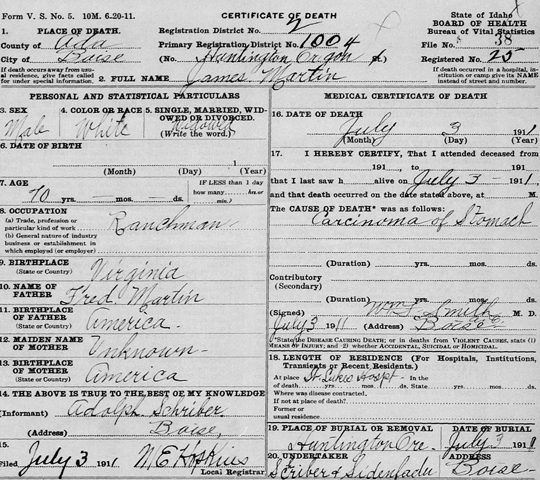 Early Idaho death certificates contain a fair amount of information. This death certificate from 1911 lists the full name of the deceased, date of death, place of death, sex, race, marital status, date of birth (if known), age, occupation, cause of death, place of birth, father's name, birthplace of father, mother's maiden name, birthplace of mother, place of burial, undertaker and even the length of residence in hospitals & institutions before the person died.
Image Source: FamilySearch.org
US
– Newspapers.com (an Ancestry company) has digitized and put online historic newspapers from Poughkeepsie, New York. Included in this collection are the Poughkeepsie Journal (1785 to 2016) and the Poughkeepsie Eagle-News (1861 to 1974). These two journals combined provide some 1.3 million pages of information on the Hudson Valley. Access is by subscription. [
Historic Poughkeepsie Newspapers
]
US
– FamilySearch.org has indexed an additional 3.7 million Cook County, Illinois death records. These records date from 1878 to 1994 (although the records are missing for the years 1910 to 1915). Please note this collection excludes the city of Chicago records. This collection can be searched by first name, last name, gender and race. Access is free. [
Cook County Illinois Death Records
]
US
– FamilySearch.org has indexed an additional 312,000 marriage records from various counties in Kansas. These county marriage records span the years from 1855 to 1911 and can be searched by first name and last name. Access is free. [
Kansas County Marriage Records
]
As well, FamilySearch.org has created a new index of Kansas City marriage records. It contains some 185,000 names and spans the years from 1811 to 1911. Please note this is an index only. The index can be searched by first name and last name. Access is free. [
Kansas City Marriage Index
]
UK
– FamilySearch.org has released an additional 2.5 million records from the 1861 England and Wales census. The data was provided by FindMyPast as part of the data exchange agreement between the two entities. It is not clear what percentage of the records from this census has gone online at FamilySearch.
This census covers England, Wales, the Isle of Man and the Channel Islands. It was taken on 7 April 1861. Please note that records from this census are missing from the following regions: North Aylesford, Kent; Northfleet, Kent; and from Shoreditch, Middlesex.
Only people who were home on the night of this census are listed in the forms. So if you had a relative that was in the navy, merchant marine, army or had any job that required them to travel or work in the evening then they may not be listed in this census. These records can be searched by first name, last name, gender, place and relationship to the head of the household. Access is free. [
1861 England Census
]
England
– FindMyPast has enhanced their
1939 Register
, which was just released with much fanfare last October (see the October 2015 commentary below). Now the collection can be browsed by county, borough/district, piece number and ED letter code. This provides a complement to performing name searches for those who may have trouble finding their ancestors but know roughly where they lived. Access is by subscription. Just a reminder that the 1939 Register is now included with the 12-month subscription package at FindMyPast. [
Browse 1939 Register
]
England
– FindMyPast has released a collection they call
Devon, Plymouth and West Devon Parish Chest Records
. Apparently, this is an eclectic mix of documents from parish chests of Plymouth and West Devon. This includes such things as the levying of taxes, the selection of juries and even pew rentals within a given church. Just to be clear, these are not baptism, marriage or burial records.
At one time, Anglican churches in England performed many duties that today would be associated with the government (such as collecting taxes for the crown, maintaining local roads, etc.). The records were usually kept in a locked chest at the local parish church, thus the name
parish chest records
.
The records in this collection list the individual's name, the type of event and the date of the event. The records span the years from 1556 to 1950. There are about 434,000 records in this collection. Each record includes a transcript and an image of the original parish record. Access is by subscription. [
Plymouth and West Devon Parish Chest Records
]
Wales
– FindMyPast has added 6.4 million new articles to their historic British newspaper collection. The latest addition includes 26 brand new titles, of which 19 are from Wales. If you are looking for a particular newspaper, use the By Newspaper filter to bring up all the titles. Alternatively, you can search by place and county. Access is by subscription. [
Historic Welsh Newspapers
]
Liberia
– FamilySearch.org has created a new browsable image collection of Liberian marriage records. In total, there are some 25,000 images in this collection, which spans the years from 1941 to 1974. These records come from the National Archives in Monrovia, Liberia and consist of marriage applications, marriage licenses, marriage returns and various other types of documents that certify marriage. Below is a sample two-page marriage application, which contains lots of useful information for genealogists. Access is free. [
Liberian Marriage Records
]
This is page 1 of a Liberian marriage application (page 2 is below). The marriage application contains more information of interest to genealogists than the actual marriage certificate itself. One interesting thing that we noted about this particular sample is that judging by the handwriting; it appears one person wrote and signed for everyone.
Image courtesy of FamilySearch.org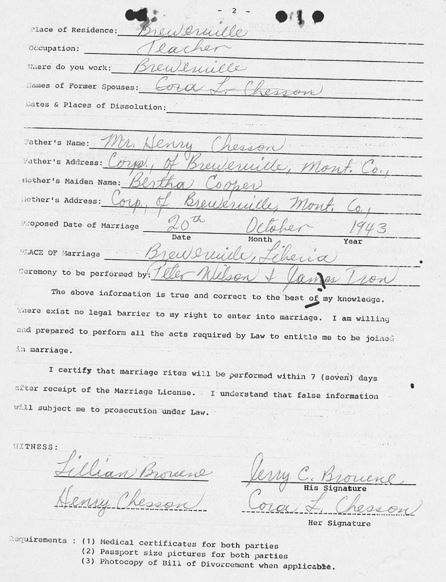 Ireland
– This is an advance notice. Both FindMyPast
and
Ancestry are planning to release some 10 million Catholic parish records in March. The records will span the years from roughly the mid 1700s to 1900 and cover over 1,000 parishes. It appears that these will be primarily baptism and marriage records (with a small number of burial records) that have been transcribed from the collection held by the National Library of Ireland. The records cover both Northern Ireland and the Irish Republic.
At the moment, FindMyPast has about 80 million Irish records and Ancestry has about 45 million Irish records so these new records in March will be a substantial addition for both firms.
The video below from FindMyPast provides an excellent overview of Irish records in general and highlights why land records and court records are very important to anyone with Irish ancestors
- See more at: http://www.genealogyintime.com/records/newest-genealogy-records.html#sthash.6vLyQYQ0.dpuf
Ancestry.com LLC Reports Fourth Quarter and Full Year 2015 Financial Results
— 2015 Revenues $683.1 million, Up 10.3% Year-Over-Year —
— 2015 Adjusted EBITDA $263.0 million, Up 16.7% Year-Over-Year(1) —
— Subscriber base grows by approximately 150,000 in 2015 —
— AncestryDNA sells approximately one million DNA kits in 2015;
DNA kit sales more than double in Q4 year-over-year—
Subscribers — Subscribers of Ancestry websites totaled approximately 2,264,000 as of December 31, 2015, compared to 2,115,000 as of December 31, 2014.

Content - The Company added over 1.7 billion new records during 2015. New collections added in the fourth quarter included:



Mexico Civil Registration records - over 200 million records

US, School Yearbooks, 1880-2012 - over 63 million records

US, City Directories, 1822-1989 - updated with over 40 million new records

4 million new international records from the U.K., Germany and Romania


AncestryDNA - AncestryDNA sold approximately one million kits in 2015 and now has a database with DNA samples from 1.5 million people.

New Offerings - Ancestry Academy, New Ancestor Discoveries and a beta launch of Ancestry Health were introduced in 2015.